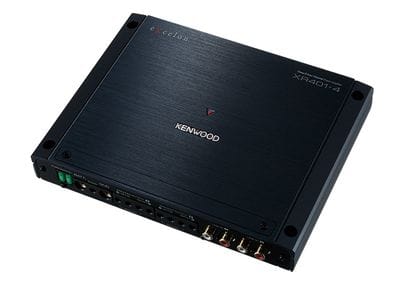 Rich and Immersive
High-Resolution Audio
High-Resolution Audio is high-quality sound that exceeds CD standard. High-resolution audio captures and beautifully expresses all the details of your favorite music. Through ultra-high and low frequencies, immerse yourself in a rich and high-quality sonic experience.
HIGH PERFORMANCE PARTS
Special capacitors and inductors have been carefully selected for the digital amplifier's LC filter, which is essential for achieving highresolution audio. These high-performance parts reduce noise and distortion and ensure excellent sound quality.
DEEP BASS SOUND
By using a down-firing subwoofer and superior technologies, the audio system generates high-quality sound and powerful bass, while still being compact
ENHANCED SIGNAL TO NOISE RATIO
The feedback value of the current XR Amplifier has been optimized to improve the S/N ratio. As a result, the noise level has been reduced by up to 40%
Operating Voltage: 14.4V (11 - 16 V allowable)
Current Consumption: 37 A
Dimensions (W x H x D): 220 x 35 x 169 mm (8-11/16 x 1-3/8 x 6-5/8)
Weight: 1.5 kg (3.3 lbs)
Warranty: 2-Year

75 W x 4 RMS Watts per channel @ 4 ohms, 1% THD+N 76 dBA
Signal to Noise Ratio (Reference: 1 Watt into 4 ohms)
Rated Power Output
14.4 V
75 W x 4 (4) (20 Hz - 20 kHz, 1.0% THD)
100 W x 4 (2) (1 kHz, 1.0% THD)
200 W x 2 Bridged (4) (1 kHz, 1.0% THD)
Frequency Response 20-20kHz(±1dB)
Low Pass Filter Frequency
(-12 dB/oct.)
50 Hz - 200 Hz (variable) Low-Range
High Pass Filter Frequency
(-12 dB/oct.)
50 Hz - 200 Hz (variable) Low-Range
2.5 kHz - 10 kHz (variable) High-Range