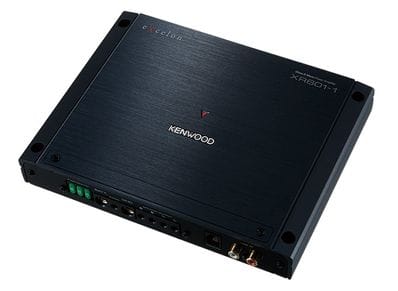 SPECIALIZED CIRCUIT DESIGN
The noise reduction system employs a special layout that separates the analog circuit, digital amplifier circuit and power supply circuit. This keeps interference between the circuits to a minimum, decreasing noise and thereby achieving high performance and sound quality.
WIRED REMOTE CONTROL
The wired remote control allows you to adjust the volume of a subwoofer when connected to the head unit.
Operating Voltage: 14.4V (11 - 16 V allowable)
Current Consumption: 46 A
Dimensions (W x H x D): 220 x 35 x 169 mm (8-11/16 x 1-3/8 x 6-5/8)
Weight: 1.6 kg (3.5 lbs)
Warranty: 2-Year
400 W x 1 RMS Watts per channel @ 4 ohms, 1% THD+N
78 dBA Signal to Noise Ratio (Reference: 1 Watt into 4 ohms)
14.4 V
400 W x 1 (4) (20 Hz - 200 Hz, 1.0% THD)
600 W x 1 (2) (100 Hz, 1.0% THD)
Frequency Response 20-200Hz(±1dB)
Low Pass Filter Frequency
(-24 dB/oct.)
50 Hz - 200 Hz (variable) Low-Pass Filter Frequency
Dimensions (W x H x D)
220 x 35 x 169 mm (8-11/16 x 1-3/8 x 6-5/8)